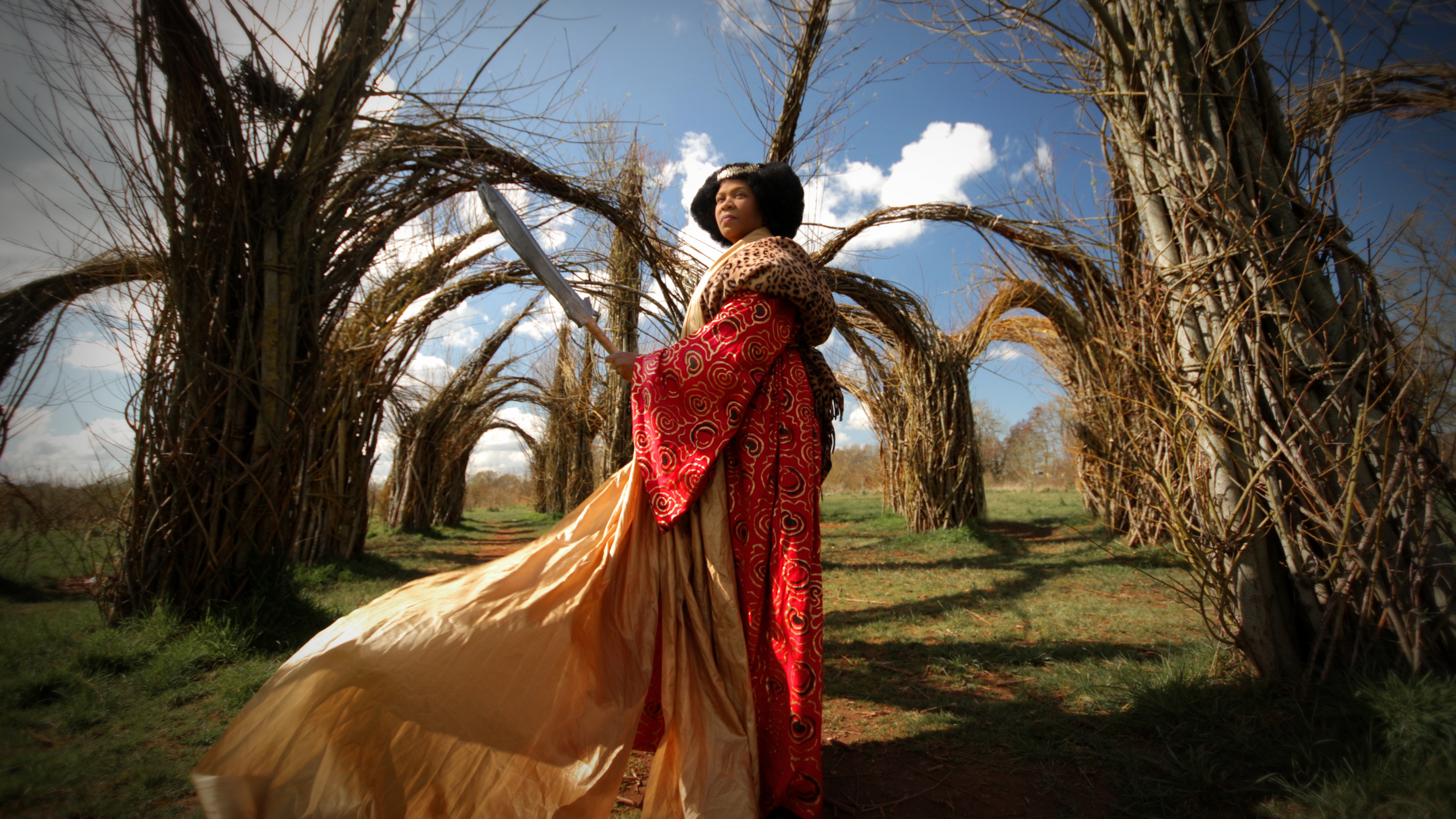 Nzingabeth!
Nzingabeth! was an Arts Council supported show with a fusion of African and Tudor music. The story of Nzingabeth! Or When Ana Met Virginia depicts a fictitious, musical meeting between two royal women in a dressing room where worlds collide. Nzingabeth! is a provocative, funny and thoughtful new play with music from Taunton-based arts and education initiatives Storytree and The Bluebirds, and Exeter-based Four of Swords and has been supported by The Arts Council.
The drama portrays a fictitious meeting between Elizabeth I of England and the proud African Queen Ana Nzinga. Elizabeth is an historical figure needing little introduction in this country, but Ana Nzinga is less well known. She was a wily and assertive character who successfully played European colonial powers off against each other. Nzingabeth! poses crucial questions on race, gender and politics, but is also designed as a treat for the senses; there's wig-swapping, sumptuous costumes and a dynamic fusion of African and Tudor music.
Gloria Lawrence, whose company Storytree has taken her into schools across the south-west as a singer and story-teller, played Nzinga.
"As a British-born black woman," says Gloria, "growing up I never knew black history existed! With this play, I can redress the balance. I want to show there are many black role models through history: not only as slaves and victims in chains, but as strong, intelligent leaders."
Sasha Herriman from The Bluebirds produced and co-starred in the show as Elizabeth I. She devised the idea for Nzingabeth! from an Elizabethan Cabaret show.
"I was doing Tudor cabaret when I discovered the story of Nzinga. I instantly knew I wanted to put her and Elizabeth together. I was fascinated by the fact that in both Europe and Africa, women were able to take the reins of power against all odds."
"The final scene showed Sasha Herriman's impressive, commanding presence fully realised…Sasha's beautiful singing was a real treat." (Remote Goat)
"I wholeheartedly applaud the vision that inspired the collaboration of Sasha Herriman of Bluebirds, Gloria Lawrence of Storytree and Philip Kingslan John of Four of Swords to create 'Nzingabeth!'The play portrays a fictitious, musical meeting between Elizabeth I of England and the proud African Queen Ana Nzinga. 'Nzingabeth!' is bold and brave." (Remote Goat)
"Gloria Lawrence's down-to-earth, sensual, impetuous, majestic Ana Nzinga," (Remote Goat)